Today's secret recipe will show you how to make Chipotle's delicious pork carnitas.  Pork shoulder is seasoned well and slow cooked until the meat is tender and easily shreds.  Serve your pork carnitas in a burrito, atop rice, in a salad, on a sandwich, or any other way you can come up with. Top with shredded Monterey Jack cheese, sour cream, fresh corn salsa, guacamole, or your favorite topping.
We have some more secret recipes from Chipotle on our forum: Go Here
Enjoy!
=-=-=-=-=-=-=-=-=-=-=-=-=-=-=-=-=-=-=-=-=-=-=-=
Parents, Don't Let This Happen…
If you or someone you know has kids, watch this now: Go Here
=-=-=-=-=-=-=-=-=-=-=-=-=-=-=-=-=-=-=-=-=-=-=-=
=-=-=-=-=-=-=-=-=-=
New Secret Recipe
=-=-=-=-=-=-=-=-=-=
Chipotle's(tm) Pork Carnitas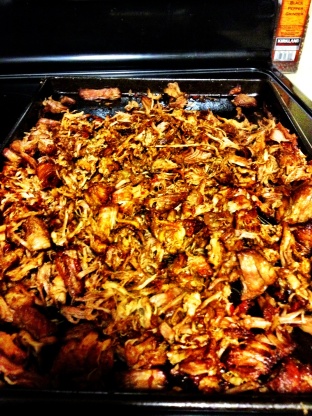 1 (5-6 lb) boneless pork shoulder
2 tablespoons olive oil
1 onion, chopped
4 medium tomatoes
4-6 cloves garlic
1 teaspoon cumin
2-4 sprigs fresh oregano
2 whole cloves
2 bay leaves
2-3 tsp dried chipotle flakes or 1-2 dried chipotle peppers
3/4 cup water
1 tsp chicken or beef bouillon
1 teaspoon salt
1 teaspoon pepper
Heat olive oil in large pan over medium-high heat. Add pork and brown all sides.  Let rest 10- 15 minutes while preparing other ingredients.
Chop tomatoes, garlic and oregano. Place pork in slow cooker and add all ingredients on top of pork.
Cook on low 6-9 hours.
Remove bay leaves and whole cloves (and chipotle peppers if you used whole peppers). Remove pork to cutting board, leaving juices in crock pot. Shred meat and return to juices in the crock pot.
Serves 8-10
Have a comment or question about this recipe? Post it here
Source: Recipe Secrets Forum
Until Next Time… Be Well!
Kind Regards,
Ron
PS- Join us on Facebook and get more recipes and freebies: Go Here
PPS- Forward this email to a friend or tell them to sign up here.
=-=-=-=-=-=-=-=-=-=-=-=-=-=-=-=-=-=
RECOMMENDED:
1) Get South Beach Sexy In 21 Days! (Free Shocking Video)
Transform your body with Miami's hottest diet secret.  Discover the
3 belly-flattening secrets the diet cartel doesn't want you to know: Go Here
2) 12 Double Chin Exercises To Tone & Sculpt Your Face!
Facial exercise secrets to rid you of chin fat without expensive surgery
or cardio.  Reduce your double chin now: Go Here
3) From Grape To Glass – Make Your Own Wine!
Learn how to easily make prize winning homemade wine using
these foolproof step-by-step instructions: Go Here
=-=-=-=-=-=-=-=-=-=-=-=-=-=-=-=-=-=
(Visited 12 times, 1 visits today)