I have some delicious new recipes (below) from our forum for you to enjoy this weekend. The marinated flank steak is one of my favorites. First I have a secret recipe for a fresh and flavorful grilled corn and arugula salad.

This dish is only one of the delicious and nutritious salad recipes featured in "The Best Salads" cookbook. This collection of over 175 easy-to-follow salad recipes are creative, flavorful and so good for you.

Members of our Secret Recipe Cookbook Club will receive this entire cookbook with their membership. If you're interested in joining the club, you can download your first 5 cookbooks right now: Go Here

Or if you'd like to get this title alone, go here.

Enjoy!
=-=-=-=-=-=-=-=-=-=-=-=-=-=-=
Your FREE bottle of probiotics is waiting to ship (address needed)
Live probiotics are critical to supporting immune function, digestive health, mood, stress management, skin health and appetite. For a limited time you can get a FREE 30-count bottle: Go Here
=-=-=-=-=-=-=-=-=-=-=-=-=-=-=


=-=-=-=-=-=-=-=-=-=-=-=-=-=-=-=-=-=
New Secret Recipe
=-=-=-=-=-=-=-=-=-=-=-=-=-=-=-=-=-=
Grilled Corn And Arugula Salad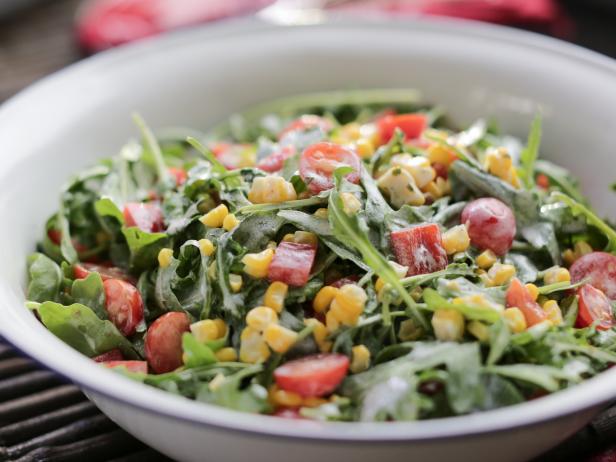 2 ears corn
1/2 garlic clove
1/3 cup finely-diced red onion
1/2 lb red and yellow miniature tomatoes, cut in half
4 tsp lemon juice
1/4 cup olive oil
3/4 tsp salt
1/2 lb arugula
1 oz Parmigiano-Reggiano

1 To prepare the corn, break off long hard stems and expose the ear by peeling back the husk without breaking it off at the base. Remove the silk by rubbing with your hands and a soft brush. Pull the husk back up over the ear to re-cover it. Soak the ears in cold water at least 20 minutes.

2 Grill the corn over a hot fire until it is dark yellow and the husks are well marked by the grill, about 15 minutes, turning occasionally to keep the husks from burning. Remove from the grill and set aside to cool.

3 Rub the inside of a large bowl with the cut garlic clove. Add the red onion and tomatoes. Using a sharp knife, cut the corn kernels cleanly from the cobs into the bowl. Do not scrape the cobs to get the last bits; that will muddy the appearance of the dish.

4 In a small bowl, whisk together the lemon juice, olive oil and salt. Place the arugula in a large bowl and toss it with enough of the dressing to coat lightly, about one-third of the total amount. Arrange the arugula on a platter.

5 Add the remaining dressing to the corn and tomatoes and stir together gently. Spoon the corn mixture loosely over the arugula, then use a vegetable peeler to shave cheese over the top. Serve immediately.

Servings: 8

Source – The Best Salads


Enjoy These Great Tasting Recipes From Our Forum:

– Marinated Flank Steak

– Shrimp Teriyaki

– Grilled Chicken BLT Pasta Salad
Find these recipes and many more on our forum: Go Here
=-=-=-=-=-=-=-=-=-=-=-=-=-=-=

Until next time… Be Well!

Kind Regards,

Ron

PS- Join us on Facebook and get more recipes and freebies: Go Here

PPS- Forward this email to a friend or tell them to sign up here.

=-=-=-=-=-=-=-=-=-=-=-=-=-=-=

The Recipe Secrets Newsletter (RSN)
(Visited 20 times, 1 visits today)