1015 Surprise Casserole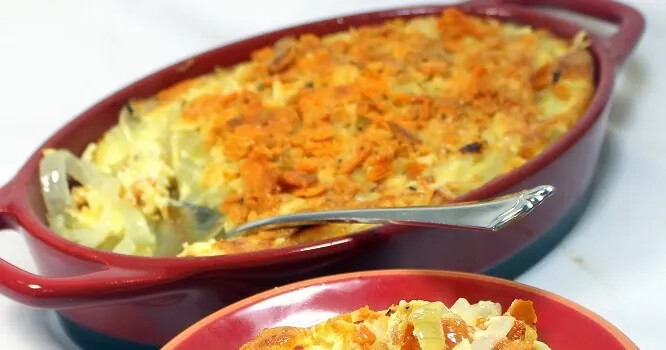 =-=-=-=-=-=-=-=-=-=-=-=-=-=-=-=-=-=-=-=-=-=-=-=-=-=
Your OMAD should be a Vegan Protein Smoothie
=-=-=-=-=-=-=-=-=-=-=-=-=-=-=-=-=-=-=-=-=-=-=-=-=-=
1/4 Cup plus 2 tablespoons Butter, divided
3 medium sized 1015 Onions, peeled and chopped
2 Cups Grated Swiss cheese, divided
1 Cup crushed Saltine Crackers, divided
2 Eggs
1/4 Cup canned evaporate
1 teaspoon Salt
1/2 teaspoon Pepper
Melt 1/4 cup butter in large skillet over medium heat. When hot, add onions
and saute until tender.
Place half of onions in a 1-1/2 quart. deep-dish pie pan. Sprinkle 1 cup
Swiss cheese and 1/2 cup cracker crumbs over onions. Repeat layers of onions and cheese.
In a medium sized bowl, beat eggs, milk, salt and pepper. Pour evenly over
onion mixture.
Melt 2 tablespoons butter in skillet over medium -high heat; stir in
remaining cracker crumbs. Lightly brown, then sprinkle crumbs over
casserole.
Bake 25 minutes at 350 degrees. Good with beef or Ham.
=-=-=-=-=-=-=-=-=-=-=-=-=-=-=-=-=-=-=-=-=-=-=-=-=-=-=-=-=-=-=
Your FREE personalized Moon Reading explores the secret
depths of your personality, relationships and true purpose in life.
=-=-=-=-=-=-=-=-=-=-=-=-=-=-=-=-=-=-=-=-=-=-=-=-=-=-=-=-=-=-=