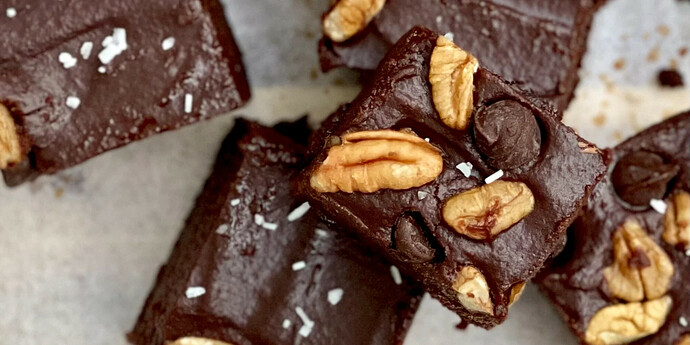 2 cups semi-sweet chocolate chips
1 heaping cup Medjool pitted dates (about 6 ounces or 12 dates)
pecans or walnuts for topping
Line an 8- by 4-inch loaf pan with parchment paper, leaving an overhang on each side for easy removal, and set aside.
Soften the pitted dates by soaking them in 2 cups boiling water for 15 minutes (making sure the dates are fully submerged). Remove dates from water and add to a blender, along with 3/4 cup of the leftover soaking water. Puree in the blender until the consistency is a smooth paste (remove any hard pieces, as sometimes a few small pit remnants remain, and they can really hurt your teeth).
While dates are soaking, melt the chocolate chips in the microwave, stopping and stirring every 20 seconds until they are velvety smooth (about 2 minutes total).
Add the pureed dates to the melted chocolate and combine. Pour evenly into the prepared loaf pan and smooth the top using the back of a spoon or rubber spatula. Sprinkle optional sea salt over the top, if preferred. Freeze for 1 to 2 hours. Remove and slice into 15 to 18 pieces (three rows lengthwise and five to six horizontally). Store in fridge for up to a week.