55 Quick & Easy Pumpkin Recipes
An awesome collection of creative and easy to make pumpkin recipes including soups, desserts, salads, entrees, and side dishes.
Pumpkin is excellent for you. It has no cholesterol, low in fat and sodium and rich in vitamins, in particular beta carotene and vitamin A. On top of being good for your health, it also tastes great!
Discount Cookbook Club Members Get This Cookbook Free (password required):

(The cookbook club is a paid subscription that is separate from our free recipe forums)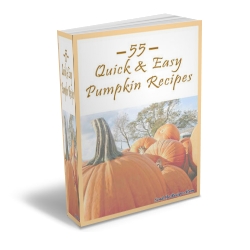 - Non Members Can Sign Up Here