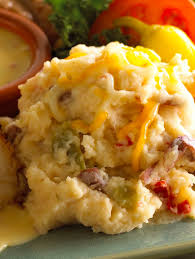 2 cups potatoes, peeled and thinly sliced
1/2 teaspoon garlic salt
1/2 teaspoon salt
2 tablespoons shortening
1/2 cup chopped green chilies
1/4 cup chopped onions
2 cups water
add sour cream to taste
Brown potatoes in shortening in a medium sized skillet at medium heat. Add onions and seasonings, cook until onions are tender. Add the green chilies and water, simmer for 15-20 minutes at low heat.
Serves 4-6