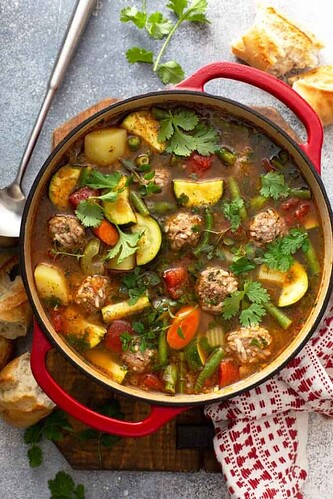 Meatballs
1 pound ground beef or ground turkey
1/3 cup season bread crumbs
1 egg
1/2 cup cooked rice
2 tbsp chopped cilantro
1 clove garlic minced
1/2 tsp salt
1/2 tsp pepper
1/2 tsp onion powder
Soup
1/2 onion, chopped
2 cloves garlic, minced
3 carrots, sliced
1 cup red potatoes, diced
2 can stewed tomatoes
1 serano chili, sliced in half and seeds removed
1/2 cup cilantro, chopped
48 oz chicken broth
1 tsp oregano
1 tsp cumin
prepared meatballs
2 medium zucchini, sliced
salt and pepper to taste
cilantro for garnish
avocado for garnish
Meatballs
In a medium bowl combine all ingredients.
Using your hands, stir and squish until well combined. Roll into 1 1/2 inch balls.
Spray an 8qt dutch oven and heat over medium heat.
Working in batches, brown meatballs in dutch oven. Once all sides are browned transfer to a plate lined with paper towel. Meatballs do not need to be cooked through - as they will continue cooking in soup.
Soup
In the drippings from the meatballs, cook onions, garlic, and carrots until onions are translucent.
Add potatoes, serrano pepper, tomatoes, cilantro, broth and seasonings. Cover and simmer for 20 minutes.
Add prepared meatballs to the broth and broil for 10 minutes.
Add zucchini and cook for an additional 10 minutes.
Taste broth and add salt and pepper to taste.
Garnish with additional cilantro and avocado.