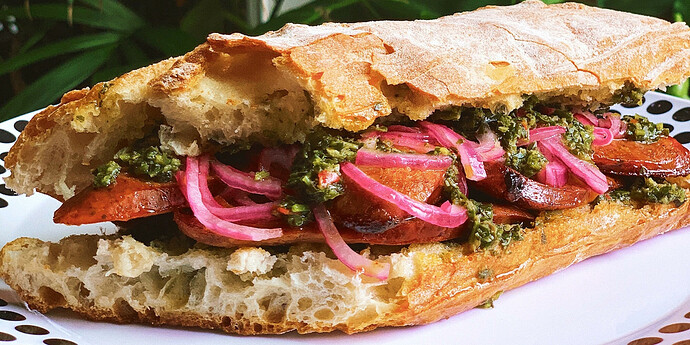 Chimichurri:
1/2 cup fresh parsley leaves and top of stems
1/2 cup fresh cilantro leaves and stems
3 large cloves garlic, peeled
1 teaspoon smoked Spanish paprika
1/4 teaspoon crushed red pepper flakes
2 tablespoons red wine vinegar
1 tablespoon freshly squeezed lime juice
1/2 teaspoon kosher salt
1/4 teaspoon freshly ground black pepper
1/2 cup extra virgin olive oil, divided
Sandwich:
1 tablespoon olive oil
2 refrigerated, smoked, Spanish-style chorizo sausage links, about 1/2 pound, thinly sliced on the bias
1/2 small red onion, thinly sliced
1 lime, juiced
Kosher salt and black pepper
1/3 baguette, Puerto Rican pan sobao, or Cuban bread (about 6 to 8 inches)
1/3 cup chimichurri sauce (recipe above)
Choripan is a street-food sandwich with roots in Argentina, though also popular throughout other Latin American countries. The recipe is essentially in the name, which is a playful portmanteau of the words "chorizo" and "pan" (Spanish for "bread"). In its simplest iteration, it's literally that — split and grilled smoky chorizo sausages tucked into crusty rolls served at street kiosks, bars and cafes. It's almost always topped with chimichurri — a spicy parsley-based herb sauce — and occasionally other ingredients like cheese, pickled onions or tomatoes.
For the chimichurri:
Combine parsley, cilantro, garlic, paprika, red pepper flakes, red wine vinegar, lime juice, kosher salt, black pepper and half the olive oil in a food processor.2.
Pulse until evenly combined but still chunky. Transfer into a bowl and stir in remaining olive oil.3.
Cover and set aside (can be made up to 3 days in advance).
For the sandwich:
Heat 1 tablespoon olive oil in a medium skillet over medium-high heat. Add the sliced chorizo and let cook about 1-2 minutes, until fat has rendered and sausages are heated through and slightly browned.
While sausage cooks, toss sliced onions with lime juice. Season with a pinch of kosher salt and black pepper. Set aside.
Cut baguette in half lengthwise and spread both sides generously with chimichurri sauce. Layer the sautéed chorizo along the length of the bottom half of the bread, followed by the onions (draining any additional liquid). Top with other half of bread and press down to allow the juices to soak into the bread. Serve hot.
Notes
Chimichurri can be made in advance up to 3 days and is best when allowed to sit for at least an hour before using to allow the flavors to meld. Leftovers keep well in the refrigerator and can be used with steak, chicken, fish or grilled vegetables.
This recipe calls for refrigerated, smoked, Spanish-style chorizo, which is different than both dried, air-cured Spanish chorizo and fresh, Mexican-style chorizo. This type of chorizo is fully-cooked and only requires sautéing or grilling to render the fat and bring out the flavor. If you can't find it, substitute another spicy smoked sausage such as andouille. If a raw fresh sausage substitute is used, adjust cooking time accordingly.