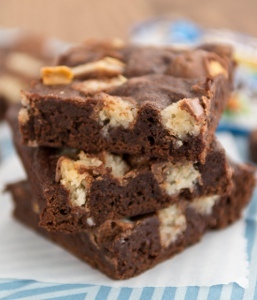 1/2 cup unsalted butter, melted
1 cup granulated sugar
2/3 cup unsweetened cocoa powder
2 eggs
2 teaspoons vanilla extract
1 tablespoon brewed coffee (or you can substitute water)
1/4 teaspoon salt
1/2 cup all-purpose flour
8 fun-sized Almond Joy or other candy bars, chopped
Preheat oven to 350°F. Line a 9x9 or 8x8 pan with foil and spray with cooking spray.
Stir together melted butter, sugar, and cocoa. Stir in eggs, vanilla extract, coffee, and salt. Carefully stir in flour. (The coffee just adds a richness to the brownies, but you can use water if you prefer.) Spread in prepared pan. The batter will be thick.
Sprinkle chopped Almond Joys (or substitute your favorite candy bars) over the top. Bake for about 18-24 minutes, until they loose their glossy sheen and a toothpick comes out 2" from the side with only crumbs sticking to it.
Cool completely before slicing into squares.
Notes
Use your favorite candy bar! Butterfingers, Reese's, Snickers, Milky Way, M&Ms…the sky is the limit!