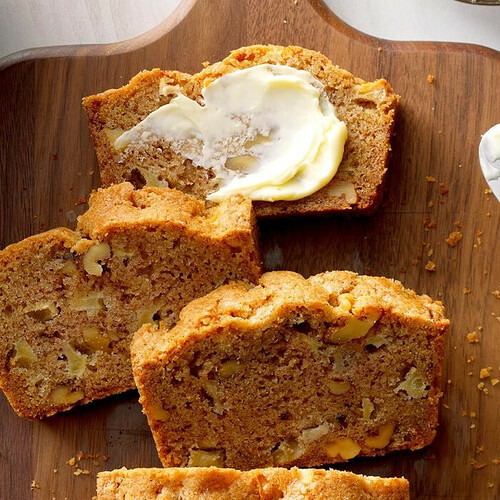 Prep: 20 min., Bake: 1 hr. Betty Moore of Owens Cross Roads, Alabama, sent us her recipe for Apple Bread, which was the inspiration for this moist and tender batter. It can be baked in muffin pans, loaf pans, or 8-inch round cake pans.
1 (3-pound) bag small apples (12 to 14 apples)
2 cups sugar
1 cup vegetable oil
3 large eggs, lightly beaten
2 teaspoons vanilla extract
3 cups all-purpose flour
2 teaspoons ground cinnamon
1 teaspoon baking soda
1/2 teaspoon salt
1 cup chopped pecans, toasted
Peel and finely chop enough apples to equal 3 cups. Set aside.
Stir together sugar and next 3 ingredients in a large bowl.
Stir together flour and next 3 ingredients; add to sugar mixture, stirring just until blended. (Batter will be stiff.) Fold in finely chopped apples and 1 cup pecans.
Divide batter evenly between 2 greased and floured 9- x 5-inch loaf pans. Bake at 350° for 1 hour or until a wooden pick inserted in center comes out clean. Remove from pans, and cool on wire racks.
Makes 2 (9-inch) loaves
hj