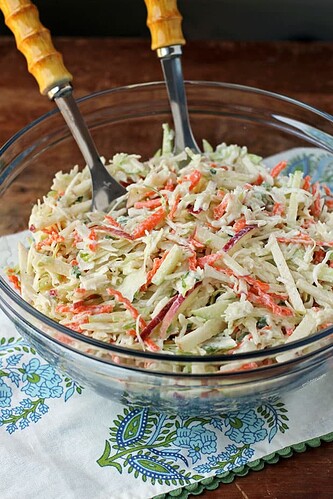 1 medium red apple, cut into matchsticks
1 medium Granny Smith apple, cut into matchsticks
1 tablespoon lemon juice
1 cup matchstick or shredded carrots
16 oz bag coleslaw mix, (shredded cabbage)
2 medium scallions, sliced
¾ cup plain nonfat Greek yogurt
¼ cup light mayonnaise
4 teaspoons apple cider vinegar
1 tablespoon sugar
¼ teaspoon salt
⅛ teaspoon black pepper
Place the matchstick-sliced apples into a large mixing bowl and pour the lemon juice over them. Stir to coat the apples in the lemon juice (will prevent browning). Add the carrots, coleslaw mix, and scallions and toss together until thoroughly mixed.
In a smaller bowl, combine the Greek yogurt, mayonnaise, apple cider vinegar, sugar, salt and pepper, and stir together until well combined.
Pour the dressing over the coleslaw mixture and stir/toss together until the coleslaw is lightly coated in the dressing. Taste and add more salt and/or pepper if desired. Serve immediately or refrigerate until serving.