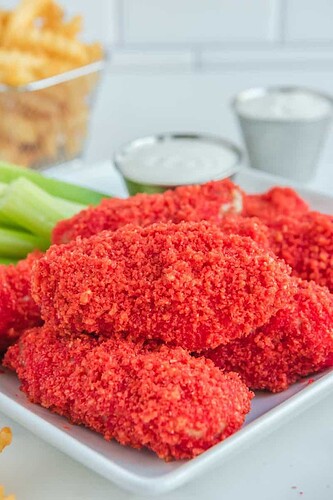 2 pounds raw chicken wings
1 cup all-purpose flour
1 teaspoon salt
½ teaspoon pepper
½ teaspoon garlic powder
2 large eggs
½ cup milk
2 teaspoons hot sauce
8.5 ounces Flamin' Hot Cheetos finely crushed
ranch dressing for dipping optional
hot sauce for dipping optional
celery sticks for serving optional
Preheat the oven to 425°F and prepare a large baking sheet with non-stick cooking spray.
In a shallow bowl, combine flour, salt, pepper and garlic powder. Mix well using a fork.
In a separate small bowl, beat together eggs, milk, and hot sauce. Beat until fully blended.
Add Flamin' Hot Cheetos crumbs to a third shallow bowl or plate.
Work each chicken wing through your dipping stations one at a time, starting with the flour station. Toss the wing well in the flour, coating evenly and fully.
Next, move the wing to the egg station, submerging it completely inside the egg mixture.
Lastly, roll the wing through the bed of Flamin' Hot Cheetos wings, coating it completely. Repeat this process for all wings, working each wing at a time before placing them on the baking sheet.
Bake wings for 18 to 20 minutes. When done, allow the wings to cool for about 5 minutes before serving.
Serve with additional hot sauce for coating or dipping, ranch dressing, and/or celery sticks.
Notes
Use a food processor to crush the Flamin' Hot Cheetos crumbs. You want those as fine as possible.
Consider purchasing two bags of Cheetos. While rolling each wing through the Cheetos, you may notice the egg or flour mixture rub off into the Cheeto crumbs. A second bag allows you to ensure your crumbs are fresh!
After crushing the Cheetos, the color will be bright hot red.
Wash hands frequently while breading these wings.
The breading on these wings does stay attached well. However, handle them gently.