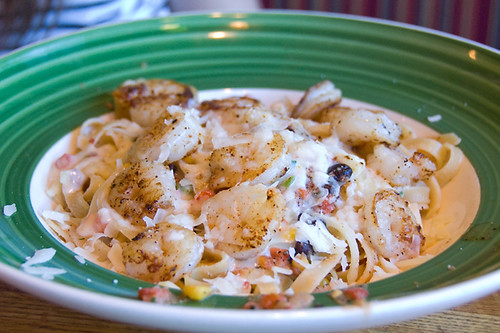 fettuccine noodles, cooked according to directions
4 ounces raw shrimp, peeled, tails removed, deveined
1 teaspoon lime juice
1/4 teaspoon chili powder
1 teaspoon sour cream
1/2 teaspoon chopped garlic
1 wedge The Laughing Cow Light Queso Fresco & Chipotle cheese
2 tablespoons black bean and corn salsa
1 tablespoon chopped fresh cilantro
Bring a skillet sprayed with nonstick spray to medium heat. Add shrimp, top with lime juice, and stir. Sprinkle with chili powder. Cook and stir for about 4 minutes, until cooked through.
Transfer shrimp to a medium bowl, and cover to keep warm. Remove skillet from heat. Clean, if needed. Re-spray and return to medium heat. Add noodles, sour cream, garlic, and cheese wedge, breaking the wedge into pieces. Cook and stir until cheese has melted, mixed with sour cream, and coated noodles, 2 - 3 minutes. Transfer to a plate or bowl. Top with shrimp, salsa, and cilantro.