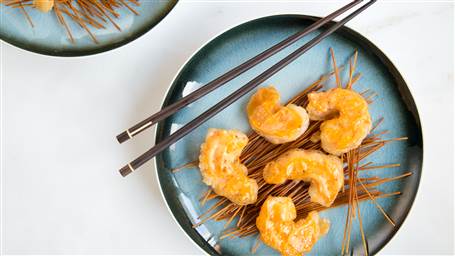 1 cup all-purpose flour
1 tablespoon + 1 teaspoon cornstarch
1/2 teaspoon salt
1/4 teaspoon cayenne pepper
1/4 teaspoon garlic powder
1 cup cold seltzer or sparkling water
1/2-2/3 cup canola oil or vegetable oil
1 pound large raw shrimp (about 30-35 shrimp per pound), peeled (and deveined if desired)
1/4 cup mayonnaise
1 tablespoon Sriracha sauce
1 tablespoon fresh lime juice
Whisk the flour, cornstarch, salt, cayenne and garlic powder together in a large bowl. Gently whisk in the seltzer just until combined—it will be the consistency of loose pancake batter.
Pour the oil into a high-sided saucepan to a depth of 1/8 to 1/4 inch. You may not need the full 2/3 cup of oil depending on the diameter of your pan. Heat the oil over medium heat until it's shimmering but not smoking—when a drop of batter dripped into the oil sizzles but doesn't immediately brown, you're ready to go.
Pat the shrimp dry, then lightly dip each shrimp, one at a time, in the batter. Wipe any excess batter off on the side of the bowl and gently place the shrimp into the oil. Don't overfill the pan; give the shrimp room to cook.
Frying shrimp
Fry for about 2-3 minutes, until the batter is puffed and golden, then flip the shrimp with a fork or spatula to cook the other side.
Transfer the cooked shrimp to a paper towel-lined plate and repeat with the remaining shrimp and batter. Add the remaining oil to the pan as needed to maintain the depth of the cooking oil.
Whisk the mayonnaise, Sriracha and lime juice together in a small bowl. Brush the cooked shrimp with the Sriracha mayo or place into individual cups to serve as an on-the-side dipping sauce, and serve immediately.