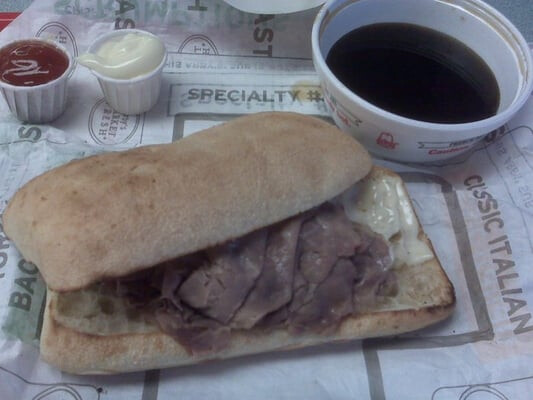 2 large onions, cut into 1/4-inch slices
1/4 cup butter, cubed
1 (3-4 lb.) beef rump roast or bottom round roast
5 cups water
1/2 cup soy sauce
1 envelope onion soup mix
1 1/2 teaspoons browning sauce, optional
1 garlic clove, minced
12 French rolls, split
1 cup (4 ounces) shredded Swiss cheese
In a large skillet, saute onions in butter until tender. Transfer to a 5-qt. slow cooker. Cut roast in half; place over onions. In a large bowl, combine the water, soy sauce, soup mix, browning sauce if desired and garlic; pour over roast. Cover and cook on low for 7-9 hours or until meat is tender.
Remove roast with a slotted spoon and let stand for 15 minutes. Thinly slice meat across the grain. Place on roll bottoms; sprinkle with Swiss cheese. Place on an ungreased baking sheet.
Broil 3-4 in. from the heat for 1 minute or until cheese is melted. Replace tops. Skim fat from cooking juices; strain and serve as a dipping sauce.
Serves 12