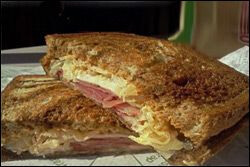 2 slices rye bread
2 teaspoons Thousand Island dressing
2 tablespoons sauerkraut, drained
1 slice Swiss Cheese
3 slices turkey breast
2 slices corned beef
2 teaspoon butter
Lay bread slices flat and spread with dressing. Top one slice with sauerkraut, cheese, turkey, and corned beef. Top with the other bread slice, dressing side down. Spread the top of the sandwich with 1 teaspoon butter. Bring a skillet sprayed with nonstick spray to medium heat. Place sandwich in the skillet, buttered side down. Spread the top with remaining 1 teaspoon butter. Cook until lightly browned, about 2 minutes per side, pressing down with a spatula to seal.