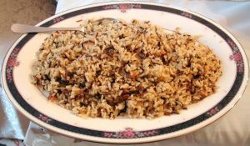 1/4 cup olive oil
1 large onion, finely diced
3 cups raw long-grain rice
3 cups boiling chicken stock
3 cups water
2 tomatoes, peeled, seeded, chopped, or 2/3 cup chopped canned tomatoes
Salt and freshly ground pepper to taste
Bring 3 cups water to a boil in large saucepan; add rice.
As rice boils, fry onions in olive oil on another burner.
After onions are light brown, decrease heat and add chopped tomatoes.
Simmer this mixture; after it has boiled down, add chicken stock.
Increase heat and allow mixture to thicken.
Combine rice and vegetable mixtures.
Add salt and pepper to taste and serve immediately.