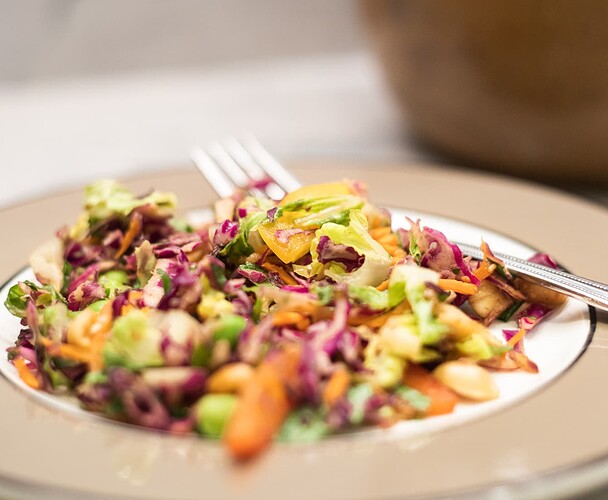 Dressing:
2 tbsp. peanut butter, smooth
2 tbsp. water
1 1/2 tbsp. low sodium soy sauce
1 tbsp. sesame oil
1 tbsp. canola oil
1 tbsp. rice wine vinegar
1 tbsp. lime juice, freshly squeezed
1 clove garlic, finely minced
1/2 tbsp. brown sugar
1/2 tsp. Sriracha sauce
2 c salt and freshly ground pepper, to taste
Salad:
2 1/2 c shredded red cabbage
2 c romaine lettuce, shredded
1 large carrot, shredded
1 red pepper, thinly sliced
1 yellow pepper, thinly sliced
1/2 c fresh cilantro, roughly chopped
1 c edamame, frozen shelled
1 green onion, thinly sliced
1/2 c peanuts
2 tbsp. sesame seeds
Combine all the dressing ingredients in a food processor and puree until smooth.
Transfer the peanut dressing to a jar, cover and chill until ready to use.
Defrost the edamame, shred and chop all the vegetables.
In a large bowl, toss the red cabbage, lettuce, carrot, bell peppers, cilantro, green onion, and edamame.
Drizzle the chopped Asian salad with the peanut dressing and toss gently.
Top with peanuts and sprinkle with sesame seeds.
Garnish with lime wedges and serve immediately.