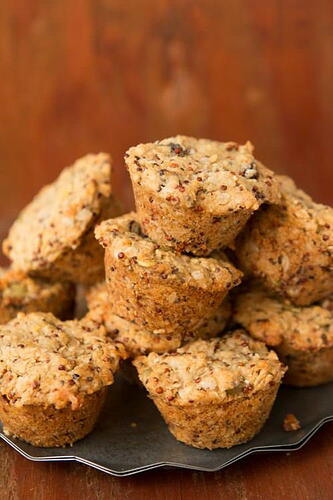 ½ cup dates, pitted
½ cup dried apricots
1¾ cups rolled oats
1 tablespoon pepitas or sun flower seeds
2 cups oat flour
1/3 cup raisins
2 tablespoons sugar
2 tablespoons honey
¼ cup Flax seed
1 tablespoon coconut flakes
1 tablespoon chia seeds
1/3 cup quinoa, cooked
½ cup butter, softened
½ cup canola oil
pinch of sea salt
1½ teaspoons baking soda
Preheat the oven to 350 degrees and spray a mini muffin tin with nonstick spray.
In a food processor, pulse the dates and apricots until smooth.
In a large bowl, combing all remaining ingredients and stir to combine. Press the dough into the muffin holes and bake for 10 minutes. Repeat with remaining dough and store in an airtight container.