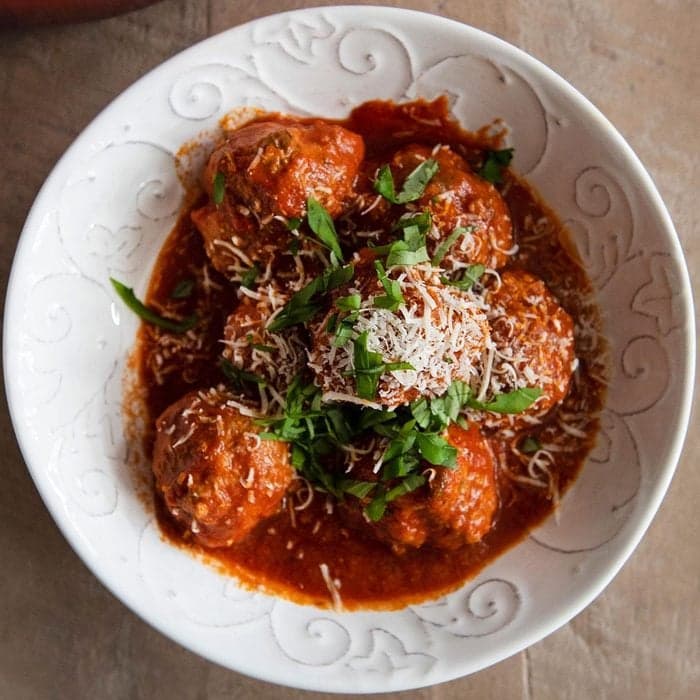 1/2 cup extra virgin olive oil
4 to 5 fresh basil leaves
2 garlic cloves, peeled and smashed
8 cups crushed tomatoes
2 cups water
2 tablespoons tomato paste
1 tablespoon kosher salt
1 tablespoon chopped fresh basil
1 teaspoon freshly ground pepper
POLPETTE (MEATBALLS):
1/2 pound ground pork
1/2 pound ground veal or pork
1/2 pound ground beef (85% lean)
1 tablespoon chopped fresh parsley
1 tablespoon kosher salt
1 teaspoon freshly ground pepper
2 large eggs, beaten
1 cup grated Pecorino Romano cheese
1 cup Italian seasoned bread crumbs
1/2 cup 2% milk
In a small saucepan, combine olive oil, basil leaves and garlic over very low heat until mixture is very fragrant and garlic turns golden brown, 10-15 minutes. Strain mixture, discarding basil and garlic; set oil aside.
In a Dutch oven, combine crushed tomatoes, water, tomato paste, salt, chopped basil, pepper and reserved olive oil. Bring to a boil; remove ½ cup and set aside. Reduce heat and simmer, covered, while preparing polpette.
Meanwhile, to make polpette, in a large bowl, combine all polpette ingredients and reserved 1/2 cup tomato mixture. Gently mix until combined (mixture will be loose). With wet hands, roll 1/4 cupfuls of mixture into balls. Place on a baking sheet or plate. Add raw meatballs to simmering sauce, gently shaking pan to allow for more space. Bring to a simmer; cook, covered, at least 45 minutes or up to 2 hours.