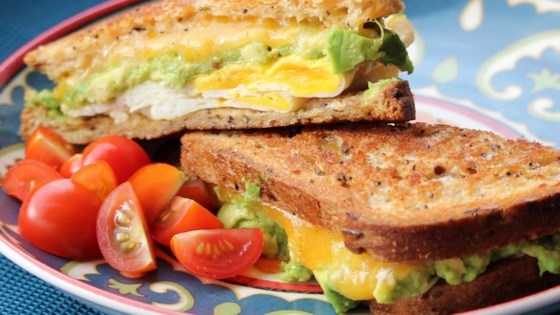 1 tablespoon olive oil
2 large eggs
salt and ground black pepper to taste
1 tablespoon butter, softened
2 slices Italian bread
1 ounce Swiss cheese, sliced
1 ounce Cheddar cheese, sliced
1/2 ripe avocado, sliced
Heat olive oil in a skillet over medium heat.
Crack eggs into skillet; cook for 1 to 2 minutes.
Flip and cook egg until done, 2 to 5 minutes more.
Transfer eggs to a plate and season with salt and pepper.
Spread butter onto 1 side of each bread slice.
Heat a skillet over medium heat.
Lay bread slices in the hot skillet, butter-side down.
Quickly layer Swiss cheese, 1 fried egg, Cheddar cheese, 1 fried egg, avocado, and remaining bread slice, butter-side up.
Carefully flip sandwich to grill other side until golden brown, 3 to 4 minutes.
Remove sandwich from skillet and cut in half.