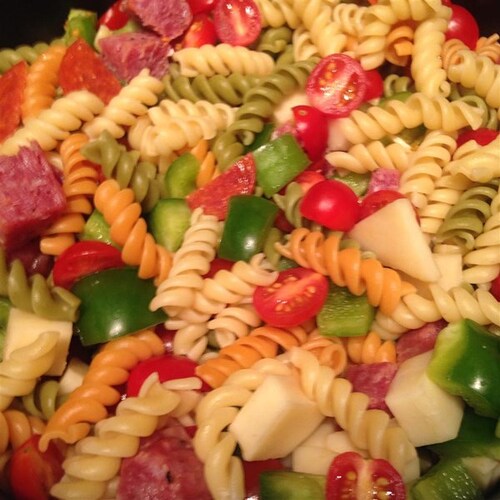 1 (16 ounce) package fusilli (spiral) pasta
3 cups cherry tomatoes, halved
1/2 pound provolone cheese, cubed
1/2 pound salami, cubed
1/4 pound sliced pepperoni, cut in quarters
1 large green bell pepper, cut into 1 inch pieces
1 can black olives, drained and sliced
1/2 cup green olives, sliced
1 (4 ounce) jar pimentos, drained
1 (8 ounce) bottle Italian salad dressing
Bring a large pot of lightly salted water to a boil. Add pasta, and cook for 8 to 10 minutes or until al dente. Drain, and rinse with cold water.
In a large bowl, combine pasta with tomatoes, cheese, salami, pepperoni, green pepper, olives, and pimentos. Pour in salad dressing, and toss to coat.