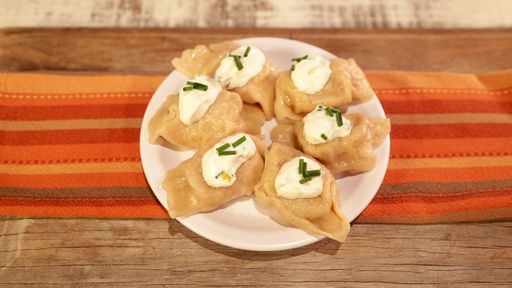 PIEROGI DOUGH:
1 large egg
1 tablespoon Kosher salt
1 tablespoon sour cream
1 1/4 cup water
4 cups flour
1/4 cup sour cream (to serve)
3 tablespoons chives (chopped, to garnish)
BACON AND CHEDDAR FILLING:
1 pound potatoes (peeled)
1/2 pound bacon
1/4 pound cheddar cheese (shredded)
Kosher salt (to taste)
For the Dough: In a large bowl, whisk together the egg, salt, sour cream and water.
Slowly add the flour, one cup at a time, and mix with a wooden spoon,
kneading by hand when it is necessary to incorporate all the flour.
The dough is ready when it is no longer sticky.
Set the dough on a lightly floured surface, cover with plastic wrap until ready to use.
For the Bacon and Cheddar Filling: Place the potatoes in a large pot and cover them with water.
Bring to a boil and cook until tender, about 30 minutes. Drain the potatoes and process them
through a potato ricer or in a large bowl, mashing them until they are smooth.
Set aside.
In a large saute pan over medium-high heat, fry bacon until crispy on both sides, about 5 to 6 minutes, per side.
Remove bacon to a paper towel-lined plate and allow to cool. Reserve the rendered bacon fat.
When it is cool enough to handle, chop the bacon into small bits.
Add the bacon, cheddar and rendered bacon fat to the bowl of mashed potatoes and stir to combine.
To Assemble: Split the dough in half, reserving the remaining dough.
On a lightly floured work surface, roll out dough to 1/8-inch thickness and cut into 3-inch rounds.
Spoon 1 tablespoon of filling onto each round, being careful not to overstuff.
Fold the dough over into half-moons and press the edges with a fork to seal them.
Bring a salted pot of water to a boil. In batches, add the pierogies and cook until they begin to float.
Cook for 4 minutes longer, then drain, reserving 1 cup of the cooking liquid.
Bring the pan of mushrooms back over medium-high heat and add a splash of the cooking liquid to the pan to loosen it up.
Add cooked pierogies to the pan and toss to combine. Garnish with sour cream and chives.
Serve warm.