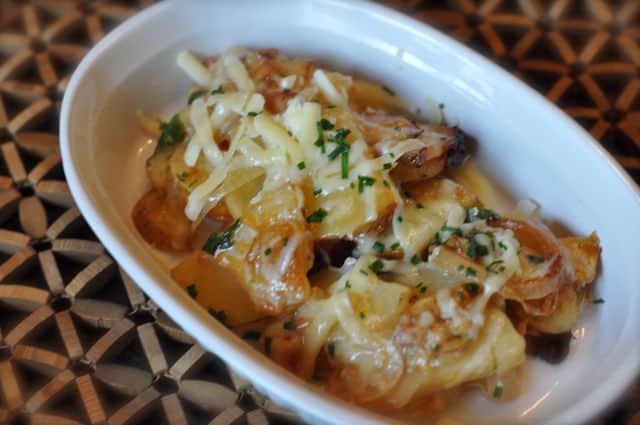 3 large potatoes
1/4 pound of bacon, chopped into small pieces
1 cup of onion sliced thin
2 - 3 cloves of garlic sliced
salt and pepper
3 tablespoons of butter
2 cups of cheese
1 or 2 tablespoons sliced green onions
Line a 6 quart crock-pot with foil (this will help keep your crock-pot clean). Slice potatoes in half horizontally, and then vertically. Sliced quartered potatoes into approximately 1/4 inch slices. Line the bottom of the foil line crock-pot with a layer of potatoes, and garlic. Sprinkle salt and pepper on the layer of potatoes and onions. Add remaining sliced potatoes and onions season with salt and pepper. Add chopped bacon (you do not need to cook the bacon before adding to the crock-pot), add 1 cup of cheese, and dot with 3 tablespoons of butter. Cook potatoes on high for 4 - 5 hours, or on low for 8 - 10 hours. When the cooking time is done, top with remaining 1 cup of cheese, and sliced green onions.