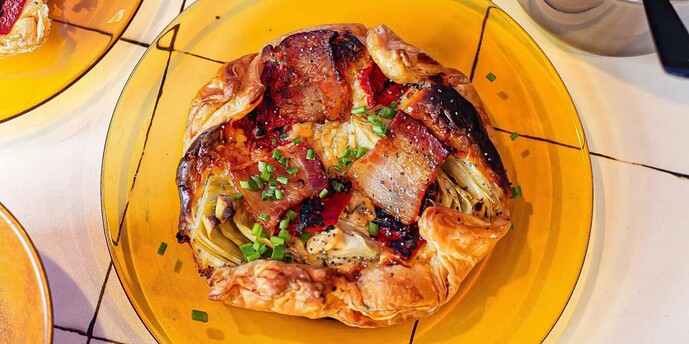 2 sheets ready-to-bake puff pastry
9 ounces garlic and herb cheese spread
12 ounces diced roasted red peppers, liquid drained
8 ounces artichoke quarters, liquid drained
6 slices bacon, cut into quarters
1 teaspoon freshly ground black pepper
1½ teaspoons poppy seeds
1/4 cup chopped chives
Place the frozen puff pastry sheets on the countertop for 30 to 45 minutes to defrost. In the meantime, place oven rack in he center of the oven and preheat to 400 F.
Once the pastry has softened and is pliable, transfer onto a lightly floured surface and divide each sheet into 6 even pieces. Place the cheese into the microwave for 30 seconds to soften, then evenly spread a tablespoon of cheese onto each puff pastry piece. Top with a tablespoon of diced peppers, a few artichokes and four slices of bacon. Fold in each pastry corner and sprinkle lightly with black pepper and poppy seeds.
Transfer the danishes onto two large, parchment-lined baking sheets and space each one 1/2 inch apart. Place into the oven and bake for 20 minutes, or until the bacon is crispy and the pastry is golden brown. Garnish with chives and serve warm.