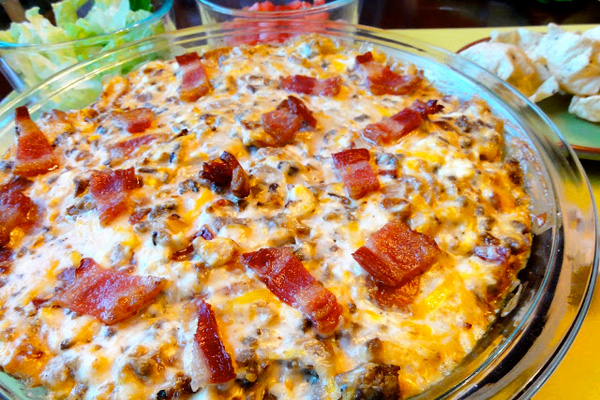 8 Bacon strips
1/2 lb Ground beef
1 clove Garlic
1/2 Onion
2 tbsp Ketchup
1/4 cup Mayonnaise
1 tbsp Worcestershire sauce
1/2 cup Cheddar cheese
4 oz Cream cheese
1/2 cup Mozzarella
1/2 cup Sour cream
1 can Rotel
Place the bacon in a large skillet and cook over medium-high heat, turning occasionally, until evenly browned, about 10 minutes.
Remove bacon to a plate lined with paper towels, reserving drippings in the skillet.
Break ground beef into the skillet; cook and stir until completely browned, 5 to 7 minutes. Drain beef,
return skillet to stove, and reduce heat to low. Reserve 2 tablespoons of bacon for garnish.
Add the rest of the ingredients and cook and stir until cheese begins to melt, 2 to 3 minutes; transfer to a slow cooker.
Cook in slow cooker on Low until hot and bubbly, 2 to 3 hours. Garnish it with the remaining bacon.
Keep in the slow cooker set to Low to serve.