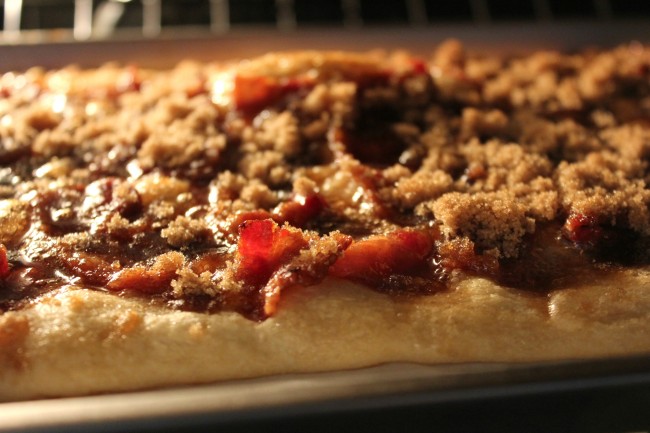 1 container of Pillsbury Crescent Dough Sheet or regular Crescent Dough
1 lb. Bacon semi crispy.
1 cup Brown Sugar
1/2 cup Maple Syrup
pinch of Cayenne Pepper optional
Lay out the dough spread out thinly, on a parchment lined baking sheet. With a fork, gently poke shallow holes throughout the dough…
Top the dough with a thin layer of Maple Syrup, and all the crispy Bacon. Now add another thin layer of the Syrup onto the Bacon and cover it with all of the Brown Sugar/Cayenne Pepper mix.
Bake it at 325 degrees for about 25 minutes or until evenly golden…
image: http://www.ohbiteit.com/wp-content/uploads/2014/01/bcoven-650x433.jpg
Peek in on it now and then so it feels loved…
Let it cool for at least 15 minutes, it will crisp up as it cools…
Now get to cracking that sweet slab of succulent satisfaction…lol! Use a knife to gently cut it into pieces!