Today's Secret Recipe comes from Badmaash, an Indian-influenced gastropub in downtown Los Angeles. In the fall they serve a traditional Punjabi spiced pumpkin dish. The dish is made by cooking pumpkin in spices, aromatics and mango powder. Dried mango powder can generally be found at Indian markets.
We also have a great selection of pumpkin recipes on our forum: Go Here
Enjoy!
=-=-=-=-=-=-=-=-=-=-=-=-=-=-=-=-=-=-=-=-=-=-=-=
Lose Weight While Still Enjoying Your Favorite Restaurants
Try this Water Hack
=-=-=-=-=-=-=-=-=-=-=-=-=-=-=-=-=-=-=-=-=-=-=-=
=-=-=-=-=-=-=-=-=-=-=
New Secret Recipe
=-=-=-=-=-=-=-=-=-=-=
Badmaash's Punjabi Spiced Pumpkin
Like this recipe? Get our Restaurant Secret Recipes Cookbook – Go Here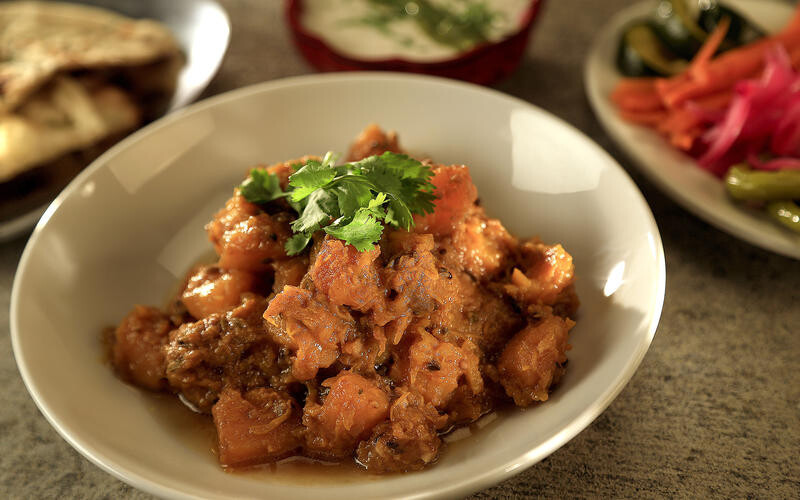 1 1/2 teaspoons mustard seeds
2 1/2 teaspoons fennel seeds
2 to 4 tablespoons canola oil
2 tablespoons ginger, finely chopped
1 tablespoon garlic, finely chopped
1 tablespoon serrano chile, finely chopped
6 cups pumpkin, peeled and cut into 1-inch dice
1 teaspoon salt, or to taste
1 tablespoon dried mango (aamchoor) powder
1 1/2 tablespoons sugar
Cilantro sprigs, for garnish
Heat a large, deep, nonstick pan or wok over high heat. Add the mustard and fennel seeds, and toast until aromatic, about 1 minute, stirring the pan so the seeds do not burn. Add the oil, and when it is hot, add the ginger, garlic and chile, stirring to combine.

Stir in the diced pumpkin and sauté until the pumpkin is coated with oil, cover the pan with a lid and reduce the heat to medium. Cook the pumpkin, stirring occasionally, until softened, 12 to 14 minutes.

When the pumpkin is softened, stir in the salt, mango powder and sugar. Continue to cook, stirring occasionally, to marry the flavors. Taste and adjust the flavorings and seasonings as desired. Transfer to a dish and garnish with cilantro before serving.
Serves 4-6
Source: LA Times
Get more secret restaurant recipes on our Secret Recipe Forum: Here
Until Next Time… Be Well!
Kind Regards,
RSN