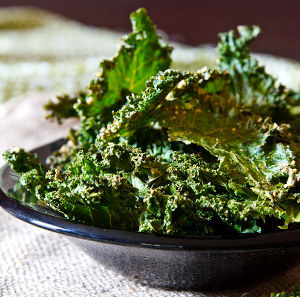 2 bunches kale
2 heaping tablespoon almond butter (or any savory nut butter)
1 tablespoon olive oil
1/2 teaspoon ground cumin
1/2 teaspoon chili powder (or substitute curry powder, we make them both ways)
1/2 teaspoon garlic powder
1/8 teaspoon cayenne pepper
1/2 teaspoon salt
Preheat the oven to 350 degrees F. Wash the kale and dry thoroughly with paper towels. Pull the leaves off the center ribs in large pieces, and pile on a baking sheet. Discard the ribs.
In a small bowl mix the nut butter, oil, spices, and salt. Pour over the kale. Use your hands to massage the kale leaves until each one is evenly coated with the spice mixture. You don't want any of the leaves to be drenched in the mixture, so take your time doing this. The more evenly the kale leaves are coated, the better they will bake.
Lay the kale leaves out flat on 3-4 full sized baking sheets (work in batches if necessary.) Do not overlap. Bake for 10-11 minutes until crisp, but still green. Cool for a few minutes on the baking sheet before moving. If some kale chips are still a little flimsy or damp, remove the crisp chips and place the damp chips back in the oven for a few more minutes. Store in an air-tight container.