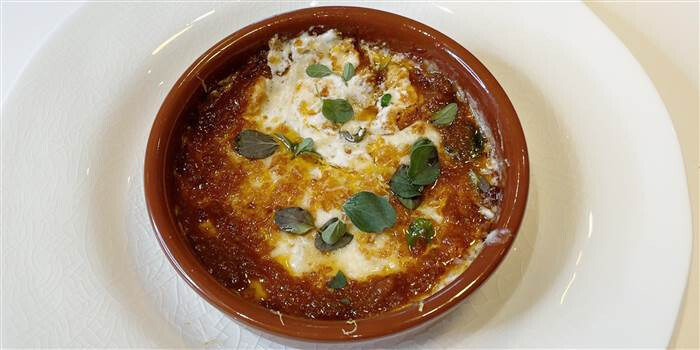 SUN-DRIED TOMATO SAUCE

5 sun-dried tomatoes
2 tablespoons red wine vinegar
1 tablespoon honey
1 clove garlic
1/2 teaspoon crushed red pepper flakes
kosher salt and freshly ground black pepper
4 tablespoons olive oil

BAKED RICOTTA

3 tablespoons whole-milk ricotta cheese
1 tablespoon grated fontina cheese
1 tablespoon cream cheese, softened
kosher salt and freshly ground black pepper
1 tablespoon grated Parmigiano-Reggiano cheese
2 tablespoons toasted panko breadcrumbs
lemon zest, for garnish
fresh oregano leaves, for garnish
extra-virgin olive oil, for garnish
warm crusty bread or grilled bread, for serving
For the Sun-Dried Tomato Sauce:
In a small saucepan, cover the sun-dried tomatoes with 1 inch of water and bring to a boil. Turn off the heat and allow the tomatoes to plump up and rehydrate in the liquid. Let cool and drain well.
In a blender, combine the tomatoes, red wine vinegar, honey, garlic, red pepper flakes and salt and pepper to taste and blend until smooth. With the motor running, slowly add the olive oil and blend until emulsified and well-balanced and the mixture achieves a sauce consistency.
Transfer the sauce to a squeeze bottle and set aside.
For the Baked Ricotta:
Preheat the oven to 400 F.
In a medium bowl, mix the ricotta, fontina and cream cheese together and season with salt and pepper. Spoon the mixture into a baking dish and spread evenly. Sprinkle the Parmigiano-Reggiano and breadcrumbs on top of the mixture.
Bake until cheese mixture is soft and gooey, about 8 to 10 minutes. Remove from the oven and top with fresh lemon zest, oregano leaves and a little drizzle of olive oil.
Squeeze some of the Sun-Dried Tomato Sauce around the perimeter of the Baked Ricotta. Serve with slices of warm, crusty bread.