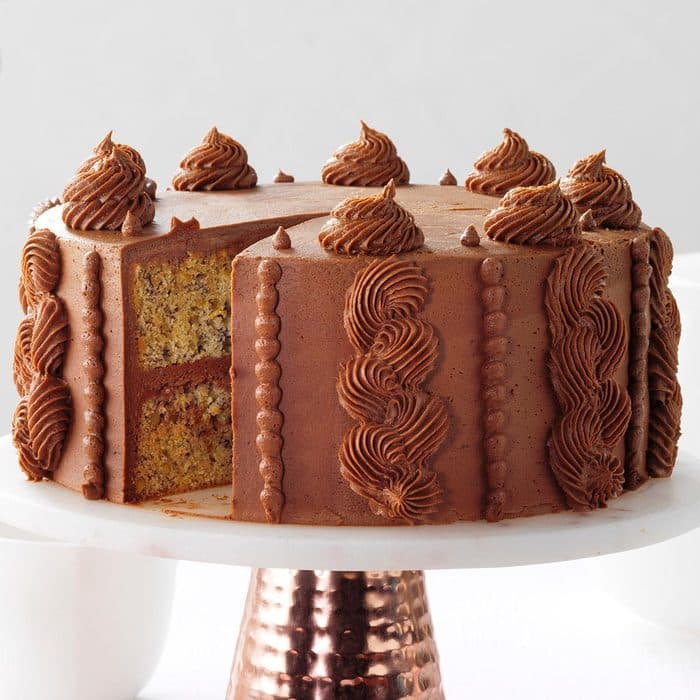 3/4 cup unsalted butter, softened
2 cups sugar
3 large eggs, room temperature
1-1/2 cups mashed ripe bananas (2 to 3 large)
1-1/2 teaspoons vanilla extract
3 cups all-purpose flour
1-1/2 teaspoons baking powder
1-1/2 teaspoons baking soda
1 teaspoon salt
3/4 cup buttermilk
3/4 cup chopped unsalted pistachios, toasted
CREAM CHEESE FROSTING:
2 containers (8 ounces each) whipped cream cheese, room temperature
1/2 cup butter, softened
1/2 cup baking cocoa
4-1/2 cups confectioners' sugar
2 teaspoons vanilla extract
Preheat oven to 350°. In a large bowl, cream butter and sugar until light and fluffy, 5-7 minutes. Add eggs,1 at a time, beating well after each addition. Beat in bananas and vanilla. Combine flour, baking powder, baking soda and salt; add to creamed mixture alternately with buttermilk, beating well after each addition. Fold in 3/4 cup pistachios.
Transfer to 2 greased and floured 8-in. round baking pans. Bake until a toothpick inserted in center comes out clean, 45-55 minutes. Cool 10 minutes before removing from pans to wire racks to cool completely.
For frosting, in a large bowl, beat cream cheese and butter until smooth. Add cocoa; mix until blended. Add confectioners' sugar and vanilla; beat until creamy.
Place 1 cake layer on a serving plate; spread top with 1 cup frosting. Top with remaining cake. Spread top and sides with 2 cups frosting.
Decorate cake as desired with remaining frosting. Refrigerate for at least 1 hour or until frosting is set.