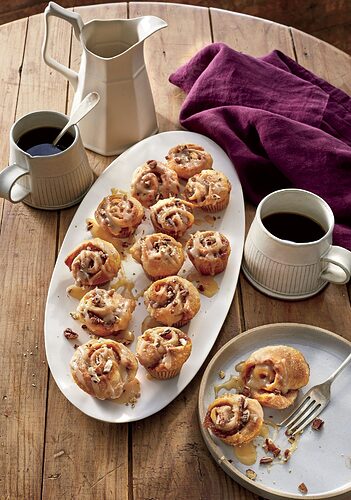 6 tablespoons butter, divided
3/4 cup firmly packed light brown sugar, divided
2 medium-size ripe bananas, thinly sliced
1 1/2 tablespoons light rum, divided
1/2 teaspoon ground cinnamon
6 tablespoons granulated sugar, divided
2 8 oz. cans refrigerated crescent rolls
1/2 cup butter, softened
1/4 cup heavy cream
1/4 teaspoon kosher salt
1/2 cup plus 1 to 3 Tbsp. powdered sugar, sifted
1/3 cup chopped toasted pecans
Melt 2 tablespoons of the butter in a medium skillet over medium;
stir in 1/4 cup of the brown sugar until combined.
Stir in bananas and 1/2 tablespoon of the rum, cook stirring often,
until bananas soften and begin to break down, 3 to 4 minutes.
Set aside; let cool completely, about 20 minutes.
Preheat oven to 375°F.
Stir together cinnamon, 1/4 cup of the brown sugar, and 2 tablespoons of the granulated sugar in a small bowl.
Unroll 1 can of crescent roll dough on a lightly floured surface.
Separate dough piece along center perforation to form 2 (7 1/2- x 6-inch) rectangles; press perforations to seal.
Repeat with remaining can.
Spread the 4 dough rectangles evenly with the softened butter,
and sprinkle each with about 2 tablespoons of the cinnamon-sugar mixture.
Dollop each rectangle with one-fourth of cooled banana mixture,
and carefully spread a thin layer of the mixture to within 1/4 inch of edges.
Roll up each rectangle, jelly-roll fashion, starting at long end.
Gently cut each dough log into 6 even slices, using a serrated knife.
Place rolls in 2 (12-cup) mini muffin pans lined with miniature paper baking cups.
Bake in pre-heated oven until golden brown, 14 to 16 minutes.
Let cool on wire racks 15 minutes.
Place cream, salt, and remaining 1/4 cup each butter, brown sugar,
and granulated sugar in a small saucepan over medium.
Bring to a boil, whisking constantly; boil 1 minute.
Remove from heat, and whisk in remaining 1 tablespoon rum.
Gradually whisk in 1/2 cup of the powdered sugar until smooth.
Whisk in remaining 1 to 3 tablespoons powdered sugar, 1 tablespoon at a time,
until desired consistency is reached.
Drizzle slightly warm buns with glaze, and sprinkle with toasted pecans.