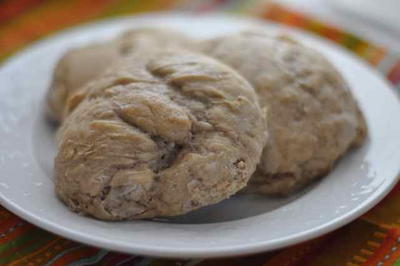 3 cups biscuit mix like Pioneer
1/2 cup sugar
Beer at room temperature, but not flat
Butter flavored shortening, melted
Preheat oven to 400 degrees.
Mix biscuit mix and sugar until blended. Start adding beer to form a wet, tacky dough (a little wetter than regular biscuit dough).
Put dough on floured surface and dust top with flour. Pat out dough by hand to about 1/2" thick. Cut biscuits with 3" cutter or use a glass if you don't have a cutter.
Cover the bottom of a baking pan with most of the melted butter flavored shortening. Arrange biscuits in pan and brush tops with remainder of the melted shortening.
Bake 10-12 minutes (depending on your oven, may want to cook at 375 degrees).