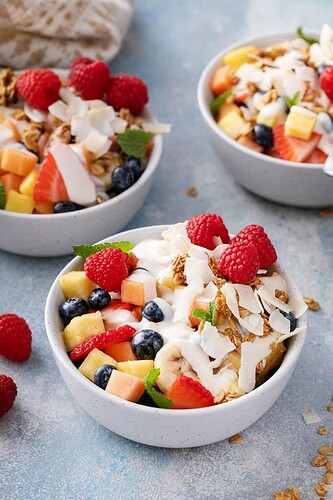 1 cup strawberries, sliced
1 cup pineapple diced
1 cup cantaloupe diced
1 cup papaya diced
1 large banana sliced into rounds
1 cup fresh blueberries
For the Sweet Creamy Sauce
1/3 cup sour cream or Mexican cream
1/3 cup plain yogurt
1/3 cup condensed milk
1 teaspoon vanilla extract
Toppings:
Granola
Pecans
Raisins
Shredded coconut
Walnuts
Honey Fresh mint
Toss the fruit gently in a large bowl. Refrigerate while you mix the sauce ingredients.
In a small bowl, stir together the sweet creamy sauce ingredients.
Place a spoonful of the creamy sauce into individual serving bowls. Top the sauce with fruit. Right before serving, drizzle each fruit salad bowl with remaining sauce (about 1/4 cup each). Top with your preferred toppings.