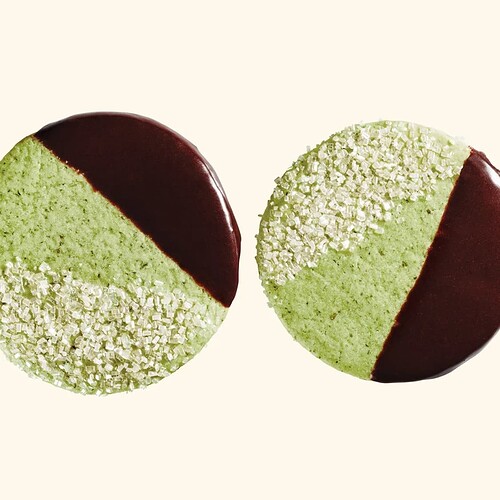 2 tsp. baking powder
2½ cups all-purpose flour, plus more for dusting
1½ tsp. kosher salt, plus more
2 cups packed mint leaves
1 cup granulated sugar
2½ sticks unsalted butter, room temperature
1 large egg
1 large egg yolk
Coarse sanding sugar or Swedish pearl sugar (for decorating)
1 cup powdered sugar
2 Tbsp. Dutch-process or unsweetened cocoa powder
1 Tbsp. light corn syrup
Whisk baking powder, 2½ cups flour, and 1½ tsp. salt in a medium bowl to combine. Pulse mint and granulated sugar in a food processor until mint is finely chopped. Add butter; process to combine. Add dry ingredients and pulse again to combine. Add egg and egg yolk; pulse until a shaggy dough forms.
Turn out dough onto a lightly floured surface and knead just until dough holds its shape. Divide dough in half; pat each portion into a 1"-thick disk. Wrap disks in plastic and chill until firm, at least 2 hours.
Place racks in upper and lower thirds of oven; preheat to 350°F. Working with 1 disk at a time, roll out dough on a lightly floured sheet of parchment paper to about ¼" thick, dusting with more flour as needed to keep from sticking. Punch out rounds with lightly floured cookie cutter and arrange on 2 parchment-lined baking sheets, spacing 1" apart. Pat dough scraps into a 1"-thick disk. Wrap in plastic and chill 10 minutes if soft. Repeat process with scraps.
Hold a bench scraper or straightedge upright 1" from edge of a cookie to cordon off a shallow semicircle (do not press down into dough; you're just making a barrier). Coat semicircle with sanding sugar; gently press to adhere. Remove scraper; you should have a tidy sugared edge. Repeat with remaining cookies and more sanding sugar.
Bake cookies, rotating baking sheets top to bottom and back to front halfway through, until edges are lightly browned, 10–12 minutes. Let cool 10 minutes on baking sheets, then transfer to 2 wire racks set inside 2 rimmed baking sheets; let cool completely.
Sift powdered sugar and cocoa powder into a medium bowl. Add corn syrup, a pinch of salt, and 2 Tbsp. warm water and stir until smooth and glossy.
Position bench scraper to make another shallow semicircle on the other side of the cookie, angling it so that it forms a V with the sugared edge, lightly pressing scraper into cookie to make a barrier. Spoon 1 tsp. glaze onto exposed semicircle and use a toothpick to help coat evenly; excess will drip over sides. Lift scraper straight up and over chocolate side to create a neat edge. Repeat with remaining cookies and glaze. Let sit until glaze is set, at least 2 hours.