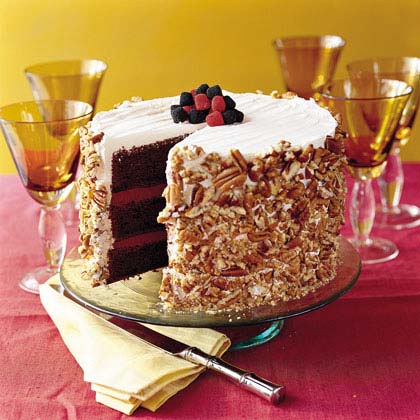 2 (18.25-ounce) packages devil's food cake mix
6 large eggs
1 cup vegetable oil
1 1/3 cups water
1 1/4 cups light sour cream
1 (12-ounce) package semisweet chocolate morsels
1 1/2 cups whipping cream
1/2 cup seedless blackberry jam
1/2 cup seedless raspberry jam
1/4 cup water
1 (8-ounce) package cream cheese, softened
1/3 cup powdered sugar
1 (16-ounce) container frozen whipped topping, thawed
1 teaspoon vanilla extract
3 to 3 1/2 cups chopped pecans, toasted
Garnish: 1/4 cup blackberry and raspberry candies
Beat first 5 ingredients at medium speed with an electric mixer 2 minutes or until blended.
Grease 3 (9-inch) parchment or wax paper-lined round cakepans. Pour batter evenly into cakepans.
Bake at 350° for 35 to 40 minutes or until a wooden pick inserted in center comes out clean. Cool cake layers in pans on wire racks 15 minutes. Remove from pans, and remove paper. Cool completely on wire racks.
Combine chocolate morsels and whipping cream in a medium saucepan over medium heat, whisking constantly, 10 minutes or until mixture is smooth. Pour into a mixing bowl; cover and chill 1 1/2 hours or until mixture begins to thicken.
Cook jams and 1/4 cup water in a small saucepan over medium heat, stirring constantly, 5 minutes or until jam melts. Brush tops of cake layers with jam mixture.
Beat chocolate mixture at medium speed with an electric mixer about 20 seconds or until stiff peaks form. (Do not over beat.)
Place 1 layer, glazed side up, on a cake platter. Spread with half of chocolate mixture. Top with another cake layer, glazed side down; spread with remaining chocolate mixture. Top with remaining cake layer, glazed side down. Secure layers by inserting wooden skewers from the top layer down through the other two layers.
Beat cream cheese and powdered sugar at medium speed with an electric mixer until smooth. Add whipped topping and vanilla, beating until smooth. Working quickly, frost top and sides of cake with cream cheese mixture. Press pecans around sides of cake. Garnish, if desired.
Note: For testing purposes only, we used Betty Crocker SuperMoist Devil's Food Cake Mix and Jelly Belly Confections Blackberries and Raspberries for candy. Candies may be found at Cracker Barrel, in the bulk candy aisle of supermarkets, or in specialty stores.
Southern Living