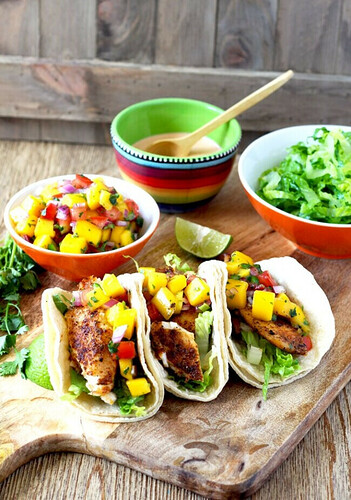 FOR THE BLACKENED SPICE MIX
1 tablespoon cayenne pepper
1 tablespoon ground black pepper
1 tablespoon paprika
1 tablespoon garlic powder
1 tablespoon onion powder
2 tablespoons salt
1 1/2 teaspoon dried thyme
1 1/2 teaspoon dried oregano
FOR THE SRIRACHA AIOLI
1/2 cup mayonnaise
1-2 tablespoons sriracha
1 tablespoon lime or lemon juice, freshly squeezed
salt to taste if needed
FOR THE MANGO SALSA
1 ripe mango, peeled and diced
1 tomato, diced
1/4 cup red onion, diced
1 teaspoon honey
1 teaspoon olive oil
1 tablespoon lime juice
1 jalapeño or serrano chili, diced
Salt to taste
THE REST
2 pounds tilapia fillets (approx 5 to 6 fillets)
2 to 3 tablespoons extra virgin olive oil
2 cups romaine lettuce, shredded or finely chopped
8-12 corn tortillas (taco size)
lime wedges (optional)
TO MAKE THE SPICE MIX
In a small bowl, stir together all the ingredients.
TO MAKE THE SRIRACHA AIOLI
In a small bowl, combine the mayonnaise, sriracha and lemon or lime juice. Mix well. Refrigerate until ready to use.
TO MAKE THE MANGO SALSA
In a medium bowl, combine all the ingredients. Season to taste with salt. Cover and chill until ready to use.
THE REST
Place the fish fillets in a single layer on a sheet pan or large container. Sprinkle the fish on both sides generously with about 2 1/2 to 3 tablespoons of the blackening spice mix. Rub the fish with the spice mix.
In a large nonstick skillet, heat 2 tablespoons of olive oil over medium-high heat. When heated, add the fish fillets, working in batches if needed. Cook for 2 – 3 minutes. Flip and cook the other side for about 2 – 3 minutes or until the fish flakes easily. (When cooking the fish fillets do not move them around).
Remove the fish from the skillet into a serving platter. Break up the fish into smaller pieces that will fit into a small corn tortilla.
Warm up the corn tortillas. Top each tortilla with shredded lettuce, blackened fish, mango salsa and drizzle with the sriracha aioli.