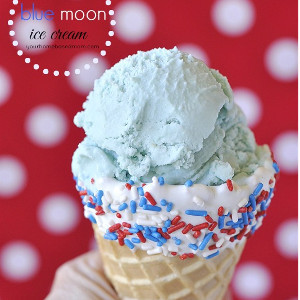 1 C whole milk
½ C sugar
¼ tsp salt
1 tsp vanilla extract
1½ C heavy whipping cream
½ tsp blue food coloring (or amount needed to get desired color)
3 tsp vanilla pudding mix (the powder)
1 tsp raspberry extract or 1 C raspberries, pureed
1 tsp lemon extract
Scald 1 C milk in a pan (heat it just until it begins to boil).
Add in sugar and salt and stir.
Add in whipping cream, vanilla, pudding, raspberry and lemon extract.
Add blue food coloring to desired color.
Chill in fridge until cold.
Process in ice cream maker.