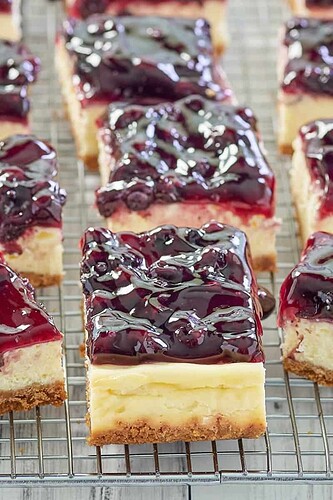 Graham Cracker Crust:
1 1/2 cups graham cracker crumbs
1/2 cup butter melted
3 tablespoons sugar
1/2 teaspoon cinnamon
Cheesecake Filling:
32 ounces cream cheese softened
1/2 cup sour cream
1 cup sugar
4 eggs
2 teaspoons vanilla extract
Blueberry Topping
24 ounces blueberry pie filling
Preheat the oven to 325°F, and line a 9×13-inch baking dish with foil. Lightly spray the foil with non-stick spray.
Graham Cracker Crust:
Combine the graham cracker crumbs, melted butter, sugar, and cinnamon until all the crumbs are coated and moist.
Lightly press the crumb mixture into the prepared baking dish.
Cheesecake Filling:
Beat the cream cheese in a mixing bowl until it is smooth.
Add the sour cream and sugar, and beat again.
Add the eggs one at a time, beating well after each addition.
Add the vanilla extract, and beat one more time.
Spoon the cheesecake filling evenly on top of the crust, smoothing it out to cover the crust completely.
Bake for 50 to 55 minutes. When it is done, the center will no longer wobble and the edges will be just starting to turn golden.
Remove from the oven and let cool completely.
Blueberry Topping & Serving
Spread the blueberry pie filling over the top of the cheesecake and refrigerate.
When it is thoroughly chilled, cut it into squares and serve.