A Secret Recipe for a delicious grilled salmon served over an asparagus salad and topped with a vibrant citrus vinaigrette. This recipe is very versatile, you can enjoy this asparagus salad with grilled swordfish or mahi-mahi. The best part is that it's easily prepared in less than 30 minutes for a healthy home-cooked meal.
To prepare the citrus vinaigrette for this dish, follow this recipe.
Enjoy!
=-=-=-=-=-=-=-=-=-=
Secret Recipe Alert
=-=-=-=-=-=-=-=-=-=
Bonefish Grill's Grilled Salmon & Asparagus Salad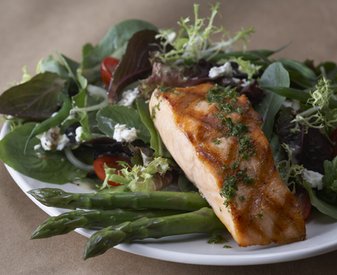 Ingredients:
3 oz. field greens
1 bowl
1 1/2 oz citrus vinaigrette
2 each, 1/2 oz. slices goat cheese
6 each blanched green beans
1/2 oz. sun dried tomatoes, julienne
1 each, 6 oz. grilled salmon
3 spears of cooked asparagus
1 tbsp. pine nuts, toasted
Directions:
Grill salmon.

While salmon is cooking – toss field greens, sun dried tomatoes and green beans with the vinaigrette (do not overdress greens).

Pile tossed field greens in the center of a dinner plate.

Arrange goat cheese slices at 12:00, 4:00 and 8:00.

Arrange the grilled salmon on the top of the salad.

Sprinkle the pine nuts over the salad.
Serve immediately.
Serves 1
Source: Bonefish Grill
Like Copycat Recipes? Get our Secret Recipes Cookbook Here.
Until Next Time… Be Well!
Kind Regards,
RSN
=-=-=-=-=-=-=-=-=-=-=-=-=-=-=-=-=-=-=-=-=-=-=-=-=-=
Your OMAD should be a Vegan Protein Smoothie
=-=-=-=-=-=-=-=-=-=-=-=-=-=-=-=-=-=-=-=-=-=-=-=-=-=