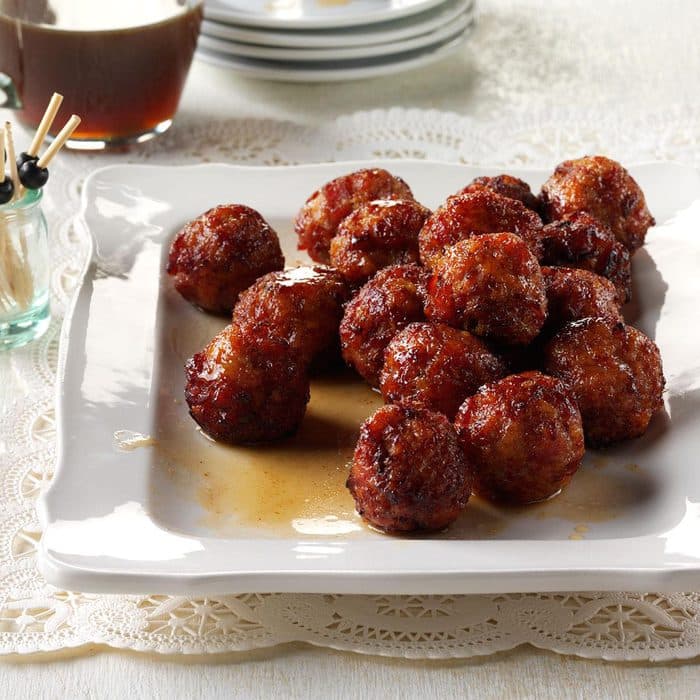 2 pounds fully cooked boneless ham
1 thick boneless pork loin chop (8 ounces)
1/2 pound bacon strips
1 cup panko bread crumbs
1 cup 2% milk
2 large eggs, lightly beaten
Oil for frying
sauce:
1-1/2 cups packed brown sugar
1/2 cup white vinegar
1/2 cup bourbon
2 teaspoons spicy brown mustard
Cut ham, pork chop and bacon into 1-in. pieces; arrange in a single layer in a foil-lined 15x10x1-in. pan. Freeze 30 minutes or until partially frozen.
Preheat oven to 350°. Transfer meat to a food processor in batches; pulse until coarsely ground, 20-24 pulses. In a large bowl, combine bread crumbs, milk and eggs. Add meat mixture; mix lightly but thoroughly. Shape into 1-1/2-in. balls.
In a large skillet, heat 1/4 in. oil over medium heat. Add ham balls in batches; cook 3-4 minutes or until cooked through, turning occasionally. Remove from pan; drain on paper towels.
In a large bowl, whisk sauce ingredients; reserve 1 cup for serving. Add ham balls to sauce, a few at a time, allowing ham balls to soak 1-2 minutes. Transfer ham balls to a foil-lined 15x10x1-in. baking pan. Bake 15-20 minutes or until heated through, brushing occasionally with remaining sauce from soaking. Serve with reserved sauce.