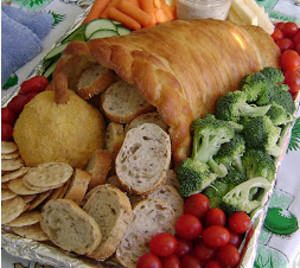 5 - 5 1/2 cups flour
3 Tbsp sugar
2 envelopes Rapid Rise Yeast
1/2 tsp salt
1/4 tsp baking soda
1 cup buttermilk
1 cup water
1/3 cup butter, cut into pieces
one egg, beaten - for egg wash
Preheat oven to 375. Line a cookie sheet with parchment paper, set aside.
In a large bowl combine 3 cups flour, sugar, undissolved yeast, salt and baking soda. Heat buttermilk, water and butter until very warm (120 - 130); butter does not need to melt completely. Mixture will appear curdled.
Stir into flour mixture. Stir in enough remaining flour to make soft dough. Knead on lightly floured surface until smooth and elastic 2 - 5 mins). Cover and let rest on floured surface approx 15 mins.
While dough is resting; shape horns out of tin foil. (This recipe made 2 fairly large cornucopias – but you could make one giant one or many tiny ones)
Roll dough into ropes and wrap around tinfoil horn. It is up to you if you want to go all the way around the tinfoil or not. Jo did and I didn't and they both worked great.
As soon as you are done wrapping, they are ready to go in the oven. There is no need for a second rise.
Just before putting bread in the oven, use the beaten egg to do an egg wash. (Using a pastry brush, gently brush egg over entire cornucopia)
Bake until golden brown, about 20 - 30 minutes.
Let cool until you are able to handle it without burning yourself but not completely cool.
Gently remove dough from tin foil and then set tin foil back inside, loosely, to finish cooling.
Fill with whatever bounty you like!
I think this may work even better with stiffer bread dough. This one, while delicious, is fairly soft.
Oh yes, and as you can tell in the pics - we braided 3 ropes of dough together for the top of the cornucopia just to fancy it up a bit.