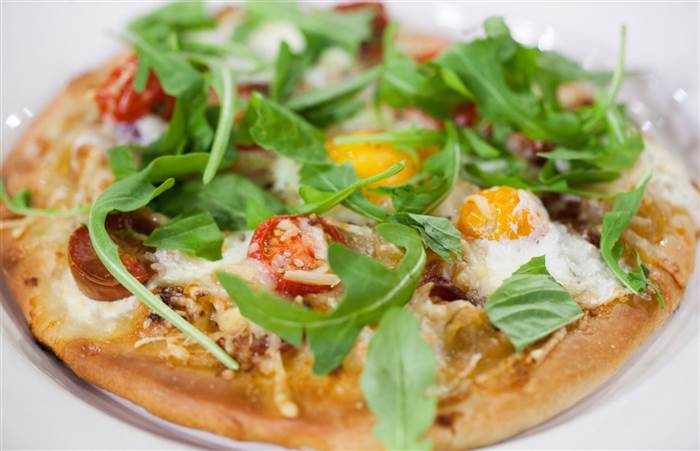 1 head garlic
Olive oil
8 tablespoons unsalted butter, divided
1 small yellow onion, julienned
6-8 ounces store-bought pizza dough
Olive oil spray
3 slices speck
3 cherry tomatoes, halved
3 ounces burrata cheese, cut into 1-inch pieces
1/2 cup shredded Parmesan cheese
1 egg
Salt and freshly ground pepper
3 cups arugula
5 basil leaves, roughly chopped
Preheat the oven to 450 F. Cut the garlic head in half, crosswise, and place on foil. Drizzle each half with the olive oil, seal the foil into a packet and place it in oven for 30 minutes.

In a small bowl, add 6 tablespoons of the butter to warm to room temperature.

Add the 2 tablespoon of butter into a small pan. Add the onions and cook for 30 minutes until caramelized, stirring often.

Once the garlic is done and still warm, squeeze the garlic pulp from both halves into the butter. Mix together.

On a floured surface, roll out the pizza dough to an 8-inch round. Place the round onto the back of a quarter sheet tray sprayed with olive oil. Brush some of the garlic butter onto the dough and bake the dough for 6 to 7 minutes. Remove the dough and brush on some more butter.

Add the speck, cherry tomatoes, caramelized onions, burrata and Parmesan. Create a well in the center and crack an egg. Bake the pizza for 11 to 12 minutes until the egg is set. The egg whites will jiggle a little when you pull it out from the oven, but will firm up after a couple of minutes.

Sprinkle the egg with salt and freshly ground pepper. Garnish the pizza with arugula and basil.
Al Rocker
Today Show