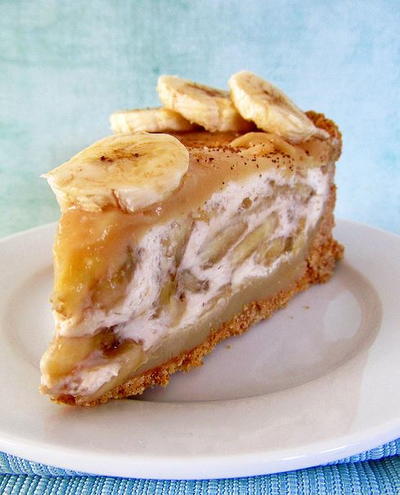 Crust:
9 ounces graham crackers or Maria cookies (I used the dulce de leche flavor)
8 tablespoons butter, melted
Toffee sauce:
1/2 cup packed brown sugar (preferably dark)
1 (14-ounce) can sweetened condensed milk
8 tablespoons butter
Filling:
1 + 1/2 cups heavy cream
5 medium bananas, ripe but firm
Preheat oven to 350 degrees F. To make the crust, line the bottom of a 9-inch springform pan (or deep dish pie pan) with parchment paper. Blend the graham crackers in a food processor until they are finely ground and combine well with the butter, they should stick together when pressed. Press the crumb mixture over the bottom and 1½ – 2 inches up the sides of the springform pan. Bake for 8 minutes.
To make the toffee sauce combine the sugar and 3 tablespoons of water in a medium-heavy saucepan over medium low heat, stir until sugar dissolves. Increase heat until the sugar boils, without stirring, for 5 minutes. Whisk in the condensed milk and butter, continue whisking/stirring for five minutes or until the sauce thickens slightly.
Remove from the heat and spread 1 cup of the sauce over the prepared crust, including the sides, refrigerate for about 1/2 hour or until the caramel is semi-firm. Keep the remaining caramel sauce at room temperature.
Using an electric or stand mixer, beat the cream until thick and very soft billowy peaks form. Thinly slice bananas into discs and fold into the whipped cream. Spoon into pie crust. Refrigerate for 1/2 hour.
Rewarm the remaining toffee sauce gently over low heat, cool to lukewarm and drizzle or spread over top of pie. (Add a tablespoon of milk if sauce seems to thick). Refrigerate another 1/2 hour before serving.
Best eaten immediately or within 24-36 hours. Additional bananas can be sliced over top right before serving.