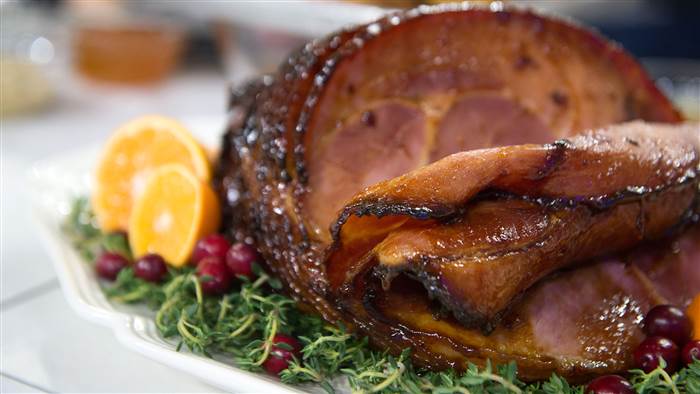 2 cups brown sugar
3 tablespoons orange zest
6 ounces cola, preferably Coca-Cola
1/2 cup spicy brown mustard
1/4 cup orange juice
One 14-16 pound spiral cut ham
JEZEBEL SAUCE
1 cup apple jelly
1/4 cup yellow mustard, preferably French's
1 cup orange marmalade
1/2 cup prepared horseradish sauce
Preheat the oven to 350º F.

In a medium sauce pan, add the brown sugar, orange zest, cola, mustard and orange juice. Warm on medium-low to medium heat until the sugar melts.

Place the ham on a foil-lined, rimmed baking sheet. Coat the ham with the mixture. Place in oven and bake according to package directions, and basting every 30 minutes.
For the Jezebel sauce:
In a medium bowl, combine the ingredients and serve with ham on a petite biscuit.