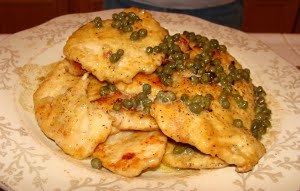 3 large boneless skinless chicken breasts, cut in half lengthwise to create 6 thin filets
pound chicken to tenderize
Salt, to taste
1 cup flour
1/4 cup olive oil
1/4 cup white wine
2 large lemons
1/2 stick unsalted butter, softened
1/4 cup heavy cream
A small handful drained capers
Cut lemons in half and use for fresh lemon juice. Pour the juice through a fine strainer.
Begin to heat the olive oil in a 12-inch saute pan on medium-high heat. While oil is getting hot, lightly season both sides of the chicken breasts with salt. Lightly dust the chicken breasts in the flour. Shake off excess flour. Place chicken in the saute pan skin-side down.
When the chicken is golden brown, turn over and brown the other side as well. It is important to brown both sides to insure the chicken is completely cooked through. When both sides are nice and brown, add white wine and lemon juice. Continue to cook for approximately two to three minutes. The liquid should reduce approximately half.
Once the liquid is reduced, remove the chicken breasts from the pan and turn off heat. Check to make sure the chicken breasts are cooked by turning each piece of chicken over and cutting it halfway through with a knife. There should be no visible pink. If the chicken is not completely cooked through, place in a 400 degree oven for five minutes to complete cooking.
Finish the sauce by placing the softened butter and cream in the pan. Using rubber spatula, work the butter into the sauce as it melts. sometimes I sprinkle a little more flour in the sauce to thicken. Add capers. Pour sauce directly on top of chicken breasts. Garnish with lemon wedges.
Makes 4-6 servings