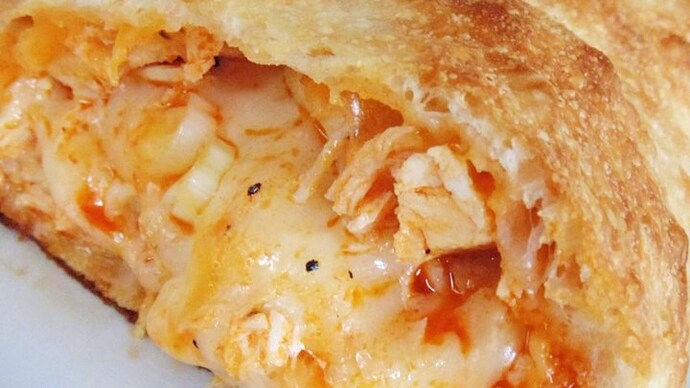 1 pound skinless, boneless chicken breast halves
2 tablespoons butter
1/4 cup Buffalo wing sauce
1 refrigerated pizza dough
2 tablespoons vegetable oil, divided
2 cups shredded mozzarella cheese
Preheat oven to 410 degrees F (210 degrees C).
Grease a pizza pan.
Place chicken into a large pot and cover with salted water; bring to a boil.
Cook the chicken breasts until no longer pink in the center and the juices run clear, about 15 minutes.
An instant-read thermometer inserted into the center should read at least 165 degrees.
Transfer chicken to a bowl and shred with two forks.
Melt butter in a skillet over medium-high heat.
Cook and stir chicken and Buffalo wing sauce in the hot butter until chicken is coated and heated through, 2 to 4 minutes.
Turn pizza dough out onto a generously floured surface.
Roll dough into a 12-inch round.
Brush dough with 1 tablespoon vegetable oil and spread 1 cup mozzarella cheese in the center of the dough, leaving a 1-inch border.
Spread chicken mixture over cheese; top chicken mixture with remaining 1 cup cheese.
Fold pizza dough in half and pinch edges together to seal.
Transfer calzone to prepared pizza pan and brush top with remaining 1 tablespoon oil.
Bake in the preheated oven until crust is golden brown, 17 to 20 minutes.