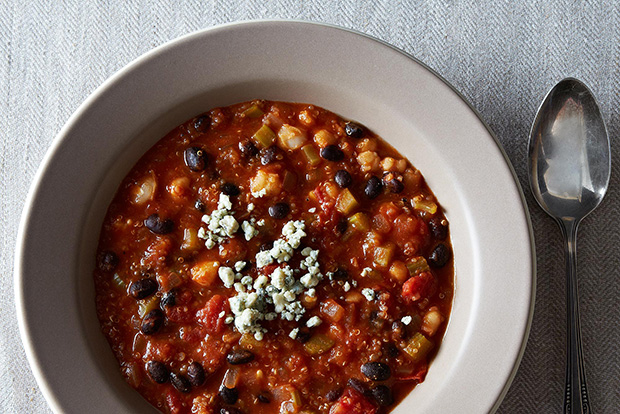 1 tablespoon olive oil
1 white onion, diced
3 stalks celery, diced
One 8-ounce can tomato sauce
One 14-ounce can diced tomatoes
1 cup vegetable broth
1 cup cooked black beans
One 14-ounce can hominy
1 cup cooked quinoa
1/2 cup Frank's red hot sauce, or to taste
1 1/2 teaspoons smoked paprika
1 1/2 teaspoons cumin
1 teaspoon salt
Freshly ground black pepper
Blue cheese, for topping
Heat the olive oil over medium in a saucepan and, once hot, add the diced onion and celery to the pan. Cook until soft, about 5 minutes.
Stir in the diced tomatoes, tomato sauce, and vegetable broth. Bring to a boil then reduce to a simmer cook for 15 minutes. Add in black beans, hominy, quinoa, Frank's, smoked paprika, cumin, salt, and pepper. Continue to cook 15 more minutes, until the flavors have melded.
To serve, ladle chili into broiler-safe bowls. Top with blue cheese and place under broiler until cheese melts, 3 to 5 minutes.
Epicurious