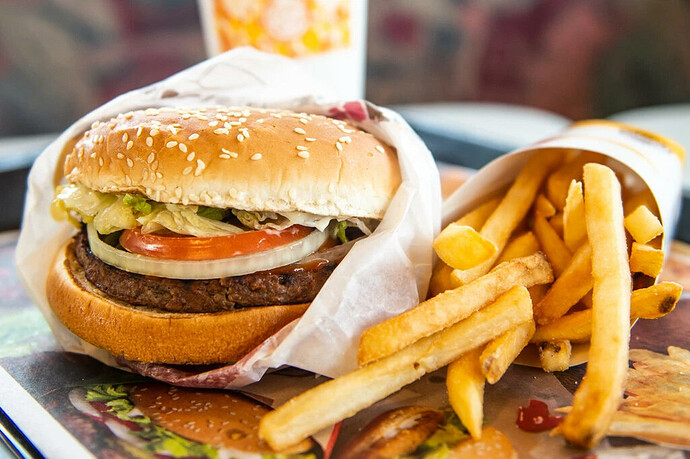 4 Beyond Burger patties
1/2 teaspoon salt plus extra
1/4 teaspoon black pepper
1 tablespoon butter, softened
4 sesame hamburger buns
12 pickle slices
1/2 white onion sliced into rings cut 1/8-inch thick
1 large tomato cut into 8 slices about 1/8-inch thick
4 tablespoons ketchup
8 leaves iceberg lettuce torn into pieces about the width of the buns
4 tablespoons mayonnaise
Thaw the Beyond Burger patties if necessary. Lay the thawed patties between two sheets of waxed paper, roll out the patties with a rolling pin to 1/4-inch thickness. Do not press too hard. Season the patties with 1/2 teaspoon of salt and black pepper.
Butter the hamburger buns and toast them in a skillet over medium heat until lightly browned. Set aside.
Heat a grill to medium-high heat. Cook the burger patties for 2 to 3 minutes per side. While cooking, add a dash of salt to each burger.
To build the burger, place the meat on the bottom bun. Then add 3 or 4 dill pickle slices, 3 or 4 onion ring slices, and 2 or 3 tomato slices. Squirt a small amount of ketchup onto the burger, add lettuce, and then spread mayonnaise onto the top bun. Place the top bun onto the burger and serve.