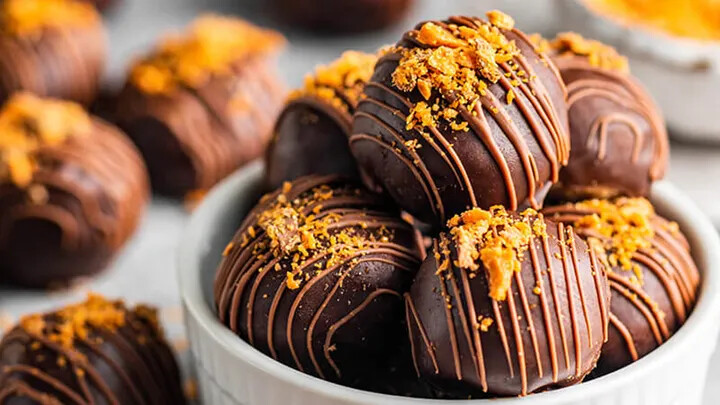 1 cup all-purpose flour (125 grams)
½ cup unsalted butter (115 grams)
¾ cup dark brown sugar (165 grams)
1 tsp vanilla extract
½ tsp fine sea salt
4 (1.9 oz) Butterfinger Bars, coarsely chopped and divided (225 grams)
5 oz 60% cacao semisweet chocolate (140 grams)
1 tbsp canola oil (15 grams)
1 oz milk chocolate, melted, (30 grams) optional
Preheat the oven to 350 °F.
Line a baking sheet with parchment paper and evenly spread the flour onto the sheet. Bake in the preheated oven for 5-7 minutes, then set aside to cool.
Cream together butter and dark brown sugar until combined. Add the vanilla and salt and mix until incorporated. Then add the flour and mix until just incorporated.
Stir all but two tablespoons of the chopped Butterfinger into the cookie dough using a spatula or wooden spoon until combined.
Scoop the dough and roll into balls, then place on a baking sheet lined with parchment paper. Cover with plastic wrap, and place in the refrigerator to chill for 30 minutes.
If desired, dip chilled cookie dough balls into melted chocolate using a fork or chocolate dipping tool.
Place on a parchment lined baking sheet covered with a spritz of canola oil, drizzle with additional melted chocolate, if desired, and sprinkle with reserved chopped Butterfinger.